About Us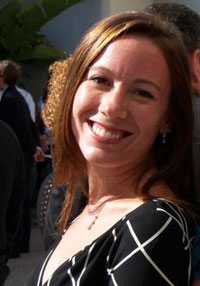 Helen Tocco began dancing in 1999, and has since not only mastered technique, connection, and partnering communication; but also brought an innate sense of musicality and soul to her dancing. While her roots are in Lindy Hop, Helen began dancing West Coast Swing in 1999 and quickly met with competitive success. She has several first place wins and rapidly worked her way up to the advanced level.
Helen DJs regularly at national events, and before moving to California, she could be found spinning weekly in the DC area. Her mix of soulful and inspiring music gets dancers moving on their feet and has made her a sought after DJ. We're lucky to have her spinning for us at our Wednesday and Tuesday dances.
Well known for her flexible teaching style and her ability to effectively communicate with students of all ages and backgrounds, Helen is an accomplished instructor. While living in Maryland, she taught weekly beginning and intermediate classes, as well as intensives and specialty workshops, at Glen Echo Park in Maryland. Helen also helped coach the CUA Ballroom Dance Team, and as one of the resident swing dance instructors, she helped CUA to establish an intercollegiate swing dance team. She firmly believes that anyone can be taught to dance, and that swing dancing in particular is a great way to express yourself.
For more about Helen visit helentocco.com. To contact Helen email htocco@thinkenergy.net.